The NBS Archives are open to the public at the following times:
Tuesday, Wednesday and Thursday
9 a.m. to 12 noon / 12:45 p.m. to 3 p.m.

The Archives are closed to the public in July, August and September.
The Archives will be closed from 20 Mar 2020 until further notice.
Matej Murtin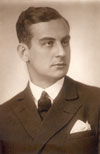 (*03 May 1905 in Liptovský Mikuláš – †11 March 1979 in Prague)
At the beginning of 1935 he was taken on as an articled clerk by Zemská banka in Prague and posted in the legal department of its Bratislava branch. Together with other employees of Zemská banka in Slovakia, he became part of the staff of Slovenská hypotečná a komunálna banka (SHKB) in Bratislava on 1 July 1939. On 1 September 1944 he was appointed a member of the Presidium of the Slovak National Council's Executive Authority for Finance in Banská Bystrica, which provided finance for the rebel army and industry in the territory controlled by the Slovak National Council. After the arrival of the Red Army in Košice, he became the deputy to the Slovak National Council's commissioner for finance Tomáš Tvarožek on 5 February 1945, after whose unexpected death he was temporarily appointed commissioner for finance from 20 July to 18 September 1945.
In May 1945 he arrived in Bratislava and returned to his work in the field of mortgage banking. On 14 April 1945 he became a member of the Temporary Administration of SHKB. At the meeting of 20 September 1945, the Board of Commissioners appointed him and Elo Šándor SHKB chief executives who, after the temporary administration was lifted in October 1946, jointly managed the bank's activities until the end of 1948. After amendments to the SHKB articles of association, Elo Šándor was appointed SHKB general director and Matej Murtin his deputy on 6 May 1948. From 1 July 1948 he was appointed the deputy chief executive of Investičná banka in Prague and held this senior position until Investičná banka gradually terminated its activities in 1956. After leaving Investičná banka he worked as a lawyer for the Central Liquidator of Financial Institutions and Enterprises in Prague for two years.
As a prominent official of the Slovak National Council's Executive Authority for finance and SHKB, he was appointed, together with Ján Oliva, a member of the Temporary Administration of Národná banka Československá (NBČS) at the session of the Czechoslovak government on 24 July 1945. After the activities of the Temporary Administration of NBČS ended on 15 October 1948 he was appointed chairman of NBČS's three-member audit committee and held this position until the dissolution of the bank in 1950.

Last updated: Thursday, November 14, 2019