The NBS Archives are open to the public at the following times:
Tuesday, Wednesday and Thursday
9 a.m. to 12 noon / 12:45 p.m. to 3 p.m.

The Archives are closed to the public in July, August and September.
The Archives will be closed from 20 Mar 2020 until further notice.
Pavel Varsik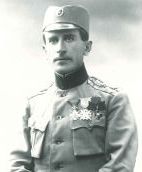 (*25 October 1891 in Myjava – †23 September 1939 in Bratislava)
In the years 1910 – 1911 he worked in Nová banka, Myjava, and after performing military service in the years 1912 – 1914, he became an accountant and correspondent in the Ružomberok branch of Úverná banka in Žilina. After the outbreak of the First World War, he participated in the combat as a volunteer in the Serbia army and later as a member of the Czechoslovak legions in France. He was also active in the Czechoslovak National Council in Paris. In the years 1918 – 1920 he was a military advisor at the Ministry with Full Powers for the Administration of Slovakia.
In 1921 he was employed by Banka československých légií where he was director of its Bratislava branch until 1925. In the period 1925 - 1939, he was a member of the directorate of Banka československých légií in Prague holding the position of expert for Slovakia and Subcarpathian Ruthenia. He was also director of the affiliation and discount section and besides this, in 1936, he became one of the directors of the credit section and managed credit matters concerning Slovakia and Sub-Carpathian Ruthenia.
In the years 1931 – 1939 he was a member of the administration board of Banka československých légií. In 1932 he was elected agent of the General fund for Financial Institutions' Board of Trustees. He was also a member of administration boards in several banks and groups of enterprises belonging to Banka československých légií. From 1 July 1939 to 23 September 1939 he was director general of Slovenská všeobecná úverná banka in Bratislava.
Last updated: Thursday, November 14, 2019