The NBS Archives are open to the public at the following times:
Tuesday, Wednesday and Thursday
9 a.m. to 12 noon / 12:45 p.m. to 3 p.m.

The Archives are closed to the public in July, August and September.
The Archives will be closed from 20 Mar 2020 until further notice.
Česká priemyselná banka, Prague (Bratislava branch)
Česká priemyselná banka (Czech Industrial Bank), Prague, was established in 1898 with a share capital of 1 million guldens. It experienced quite a dynamic expansion, opening new branches throughout the Czech lands and, later, extending its activities to other parts of the monarchy as well. In 1908, the bank opened a branch in Vienna, followed by a Ljubljana branch in 1911 and a Krakow branch in 1913. In Slovakia it had only a marginal presence through its Budapest subsidiary, which was founded in 1911 under the name Magyar-Cseh iparbank.
After the establishment of Czechoslovakia, the bank became active in Slovakia as well, opening its branches in Bratislava (1919) and Košice (1920). After merging with Hospodárska úverná banka pre Čechy and Obchodná a priemyselná banka in Ostrava in 1922, the bank's share capital increased to 150 million Czechoslovak crowns (Kč). The Bratislava branch's long-standing director was Klement Florián, its company secretaries were Josef Balíček, Ludvik Francl and Josef Kopáček. The Košice branch was led by Jaromír Zelený.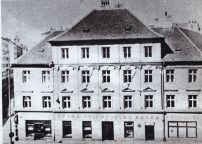 Using its branches in the territory of Slovakia, Česká priemyselná banka gradually took over several industrial undertakings, e.g. Spojené mlyny, Bratislava (mills); Medica, Bratislava; Československá paroplavebná akciová spoločnosť dunajská, Bratislava (shipping company); Steiner a Löwy, a manufacturer of liquors and rum in Banská Bystrica. The bank's history was seriously affected by the dramatic developments of 1938 - 1945. Following the First Vienna Arbitration in 1938, the bank lost its branch in Košice, which was gradually liquidated by Magyar-Cseh iparbank in Budapest. After the dissolution of Czechoslovakia and the establishment of the Slovak Republic on 14 March 1939, the Bratislava branch managed to remain in operation in exchange for Česká priemyselná banka selling its shares in Magyar-Cseh iparbank in Budapest to Slovenská banka in Bratislava. In 1943, the Protectorate of Bohemia and Moravia decided to merge Česká priemyselná banka with Živnostenská banka in Prague. This led to the merger of the Bratislava branch of Česká priemyselná banka with the Bratislava branch of Živnostenská banka with effect from 1 July 1943.

The preserved documents of the Bratislava branch of Česká priemyselná banka, which cover the period 1927-1945, and mainly concern the branch's liquidation, larger credit transactions and the construction of a new building for the branch, are stored in the Archives of Národná banka Slovenska. A basic registry list for these documents was prepared in 2013 and edited in 2016.

Last updated: Monday, September 16, 2019