The NBS Archives are open to the public at the following times:
Tuesday, Wednesday and Thursday
9 a.m. to 12 noon / 12:45 p.m. to 3 p.m.

The Archives are closed to the public in July, August and September.
The Archives will be closed from 20 Mar 2020 until further notice.
Andrej Hlinka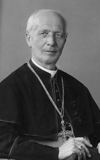 (*27 September 1864 in Ružomberok-Černová – †16 August 1938 in Ružomberok-Černová)
In 1884 he founded and managed a credit and food association in Tri Sliače, where he worked as a pastor for thirteen years (until 1905).

He was a co-founder and one of the largest shareholders of Ľudová banka, Ružomberok established in 1907. In 1910 he became its administrator and remained in this post for 23 years. Under his leadership, the bank established branches mainly in eastern Slovakia and developed activities to raise the status of Slovakia and the city of Ružomberok.
He signed the Martin Declaration on 30 October 1918, and he was a supporter of the Pittsburgh Agreement. Throughout his life he devoted himself to political activity. Because he was a Member of the National Assembly, he had to give up the position of administrator of Ľudová banka in 1933.

Last updated: Wednesday, November 13, 2019