The NBS Archives are open to the public at the following times:
Tuesday, Wednesday and Thursday
9 a.m. to 12 noon / 12:45 p.m. to 3 p.m.

The Archives are closed to the public in July, August and September.
The Archives will be closed from 20 Mar 2020 until further notice.
Collection of Banknotes and Coins
The collection of banknotes and coins was established in 1995 from banknotes and coins donated to the Archives of Národná banka Slovenska by the bank's employees. New items are added based on acquisitions by the Committee for the Acquisition and Evaluation of Written, Pictorial, Sound and Other Records.
The most precious piece is a ten-dollar banknote from 1907 with the signature of Michal Bosák, which was donated to Národná banka Slovenska by his relatives in 1999. The oldest coin deposited in this collection is the poltura of the Polish King Sigismund III Vasa from 1624 and the oldest banknote is a 5 forint note issued by the Hungarian revolutionary government in 1848.
In building the collection, the main focus is on banknotes from various periods of the existence of the Czechoslovak Republic and Slovak Republic. The collection of banknotes and coins is mainly used for exhibition, publication and educational purposes and enjoys the interest of the general public.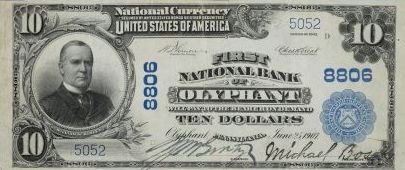 Last updated: Wednesday, November 13, 2019